Meet the NCH Nurse Practice Council
Rhonda Howard, RN Masters in Nursing Education Director of Education and Outpatient Treatment Center (OTC) – I get so excited watching people grow through education! I love spending time with my family and friends.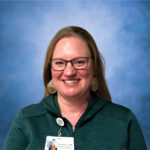 Rebecca Clarke, RN, BSN, MSN, Charge Nurse, Operating Room RN, Surgical Services – When not at work running around the OR, I enjoy all things outdoors at home in Island Pond. I am an active member of the Brighton Recreation Committee, I love hiking in all seasons, mountain biking, swimming, camping, and spending time with family and friends. I am also mom to a sweet spunky busy boy. Professionally, I began my career in nursing in 2001 after graduating with a BSN from Norwich University. After a few years on a med/surg floor I moved into the OR and fell in love with the specialty. Most of my nursing career was spent at DHMC in both clinical and leadership roles. During that time, I returned to Norwich University and completed an MSN in Nursing Leadership and Administration. When my family was ready to move back home to the Northeast Kingdom, I was excited to find a position available in the OR at NCH continuing to do what I love.
Tara Brown, RN ADN PACU RN, Surgical Services – I am a mom of three grown children that I am extremely proud of. I have lived in Vermont my entire life and feel blessed that I live in a place that others come to as a vacation spot. I also feel blessed to work with such wonderful, supportive, respectful, and professional co-workers at North Country Hospital.
Sierra Pecue, RN BSN Emergency Department RN – I love to be outside working or hiking with my two dogs, Miley and Allie. I also enjoy spending my time off from work with my niece and nephew. I love to be active, so being an ER nurse is just the place for me.
Samantha Marcoux, RN MedSurg RN Charge Nurse – I joined North Country Hospital in 2010 beginning in the lab. I worked for Surgical Services before starting a family, then rejoined the MedSurg unit. I love bedside nursing and I dedicate my time to my patients and their families. My husband and I love being outdoors with our family. We enjoy camping, biking, and walks in the parks.
Katrina Bennett, RN ASN RN in the Outpatient Treatment Center – I have worked as a nurse at NCH for 9 years in a few different departments. My current role in the OTC is by far my favorite so far. However, my true passion is family. Most of my free time is spent me cheering on two my boys at the sporting event of the season, hockey, baseball, or soccer. When not consumed by sporting events my Husband and I love to catch a comedy show anytime we get the chance.
Krista Rodrigue, RN ADN RN, OB-RNC, C-EFM – I have been a registered nurse for 14+ years. I currently hold specialty certifications in maternal Child healthcare. I am also a BLS Instructor. In my free time I enjoy many outdoor activities such as kayaking, walking, snowshoeing, hiking and cross-country skiing. I have two children ages 23 and 20.
Ebonie Howard BSN MCH RN – I grew up in the area and I'm excited to bring my nursing skills back to the community. After spending a few years as a traveling RN with my husband in Alaska and Colorado, I am excited to get back to my roots and enjoy the snowy slopes of Jay and hopefully teach my daughter to ski. When not at work I love spending time with my family.
Eilish Quirion BSN, RN – has been an employee at North Country Hospital since 2016. She started her career in the Emergency Department as a New Graduate RN after graduating Cum Laude with a Bachelors in Nursing from the University of New England. Eilish continues to work in the ER while being a Charge Nurse and a Preceptor to new Nurses. Eilish enjoys being on multiple committees to include, the ER Nurse Practice Council, Hospital Nurse Practice Council, Clinical Ladder Committee, Moonlight Ball Committee and Transport Team. In Eilish's free time she enjoys spending time with her two Labs Chief and Sully. Eilish and her husband Marc, just welcomed their newest addition Charlotte to their family this past fall.
Chantal Lampron, RN BSN, Clinical Applications Analyst RN, Clinical Informatic Services (CIS). – Chantal is originally from Magog, Quebec, but lived all of her adult life if the US. She has been a nurse for 19 years and practiced in the states of Ohio, South Florida, Georgia and now back to her roots in Vermont, since late 2021, to be closer to family. Chantal is the proud mother of one wonderful teenage daughter and her world revolves around her and her basketball games. Go North Country! Check out #24!
Christina Lawson, RN, BSN, CNOR is a Registered Nurse with over 30 years of clinical experience in various specialties. Her areas of expertise include ambulatory and surgical nursing. She is certified in operating room nursing(CNOR), advanced cardiac life support(ACLS), pediatric advance life support(PALS) and pediatric emergency assessment recognition and stabilization(PEARS). Christina is a BLS instructor, providing basic life support training to NCH staff and community members. Christina loves to spend her spare time supporting her daughter in her extracurricular activities, or helping with the family's food truck, The Runaway Tomato.